In celebrating Nigeria, her people and her successes over the last 100 years; Commonwealth Democracy Initiative in partnership with GLEEHD Foundation, ROSTRA Consulting & Amandla Consulting organised a week long chain of events in London to celebrate the success of Nigeria as a united nation from the  Monday 10th to Thursday 13th of March 2014.
Dayo Israel, GLEEHD Foundation's Director for Africa led the Nigeria delegation through the London events which commemorated Nigeria's centenary, her active role in the commonwealth, and the economic growth of her state, while also creating an opportunity for a renewed partnership between Nigerian Government/Business Leaders and their European counterparts.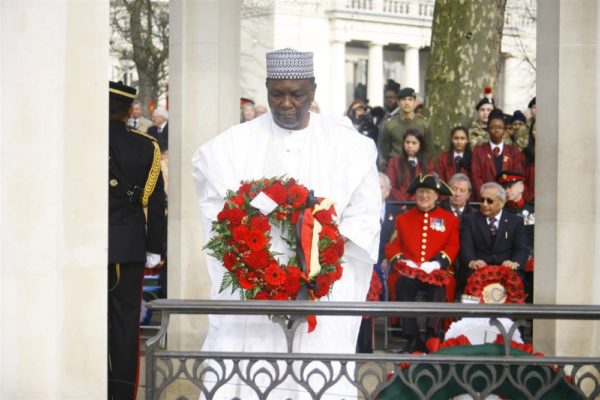 Speaking about the involvement of GLEEHD Foundation; Dayo Israel said "it is imperative that as the Commonwealth and the United Kingdom celebrates the Centenary of World War 1 and this year's commonwealth Day observance, that it should also celebrate the centenary of the amalgamation of the southern and northern Nigeria – a British product led initiated by Lord Lugard, it is on this premise that we have collaborated with the Commonwealth Democracy Initiative and Rostra Consulting to put Nigeria on the map during this symbolic week in the commonwealth and also to help foster a renewed commitment in the UK-Nigeria economic relationship."
The delegation of visiting Nigerian Business and Economic Leaders led by General Yakubu Gowon participated at the Commonwealth Memorial Service in Honour of the war dead of World War 1 with wreath laying on behalf of the Nigerians who died in World War 1 at the Commonwealth Memorial Gate in London.
The ceremony had in attendance Former UK Prime Minister Sir John Major; Eminent Commonwealth Leaders, Senior British Leaders, Joke Silva, Sound Sultan, Weird MC and a host of others.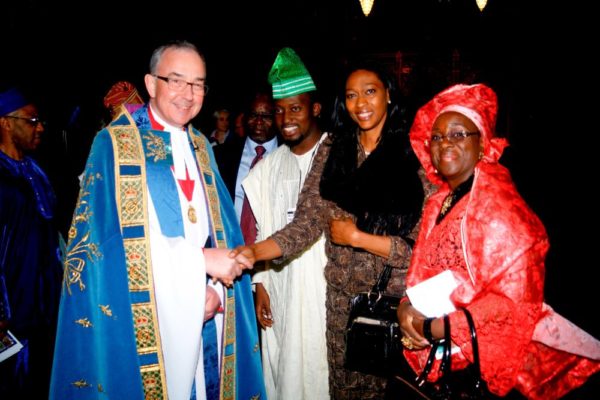 The Nigerian Business Roundtable was held in honour of Nigeria at the British Institute of Directors was held to bring together various private investors, entrepreneurs and venture capitalists from Nigeria and to meet their public and private sector counterparts in the United Kingdom.
It also offered a unique opportunity for business communities to engage each other in a series of plenary and breakout sessions which covered major issues, including challenges and opportunities in UK-Nigeria Investment and Trade. Some of the participants include Governor Yuguda of Bauchi, Governor Oshiomole, Governor Uduaghan, Chairman of Etisalat Nigeria – Hakeem Belo-Osagie; Chairman of the Nigerian Economic Summit Group – Foluso Phillips, M.D of Nigeria's Bank of Industry – Dr. Evelyn Oputu, D.G National Center for Women's Development – Onyeka Onwenu; HRH Adekunle and Ojuolape Ojora; Vice Chairman of the Council of Speakers and Speaker of the Oyo State House of Assembly Rt. Hon Sunmonu; Chairman Senate Committee on Privatisation Senator Gbenga Obadara, Olu Jacobs and Joke Silva, General Yakubu Gowon, Minister of Power – Prof Chinedu Osita Nebo amongst others.
Other leaders represented at the week long event include the Ooni of Ife Oba Okunade Sijuade, Governor Rauf Aregbesola of Osun, Governor AbdulFatah Ahmed of Kwara and Governor Jonah Jang of Plateau, and Hon Labaran Maku – Minister of Information.
Speaking at the business roundtable; Governor Oshiomole said "The story of Nigeria is like a big elephant struggling to get on its feet but there is no question that when it does get on its feet, it must dominate the forest. All indicators are there, no perfect country but many opportunities… Nigeria ought to get first preference from the British investors especially because of our ties and the advantage of language etc but Britain is losing out to the Asian tigers, its high time Britain reconnect to Nigeria economically."
The event also featured some High Level Trade and Investment Meetings organised by GLEEHD Foundation for the Government and Business Leaders from Nigeria including a High Powered Trade Meeting with Former UK Ambassador for Global Trade and Investment, and 3rd Child of Queen Elizabeth – Prince Andrew the Duke of York at Buckingham Palace; as well as a meeting with the leadership of the All Party Parliamentary Group on Entrepreneurship at the UK House of Lords.
A Special Event at the Islington School of Art and Media was also held which saw some of the VIP Guests from Nigeria address over 250 students and young leaders as part of the activities to celebrate Nigeria's Centennial Anniversary in London. Speakers included GLEEHD Director – Dayo Israel, General Yakubu Gowon, Foluso Phillips and Dr. Charles Akinola from the Osun State Government.
All invited guest also participated at the Commonweath Day Observance Service with Her Majesty Queen Elizabeth II at the Westminster Abbey, with some delegates including General Yakubu Gowon attending a Private reception with Her Majesty The Queen at Marlborough House as organised by GLEEHD Foundation.